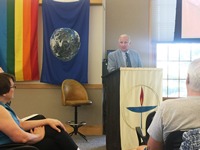 (10:15 to 11:30 a.m.)
During the regular year from September to May, we hold a single Sunday program from 10:15 to 11:30 a.m. We offer a Program for Children and Youth during the Sunday Adult Program. In the summer months we hold services once a month, meeting at the same time. The summer services are designed to be inter-generational, so adults and children can attend together. Pilgrim House has one program a month in the summer.
The current program description and program descriptions for recent programs can be found on the Pilgrim House page. Older programs are archived by year on the following pages:
We are starting to post transcripts of some previous programs: see Transcripts.
---
Our summer schedule begins in June – Programs are on the fourth Sunday of the month in June, the third Sunday in July, and the second Sunday in August.