Pilgrim House listed in the Congregational Solar Directory
Pilgrim House is now listed in the Interfaith Power and Light Congregational Solar Directory https://interfaithpowerandlight.org/congregational-solar/.
Pilgrim House Tour of Gibbs Farm on July 15, 2023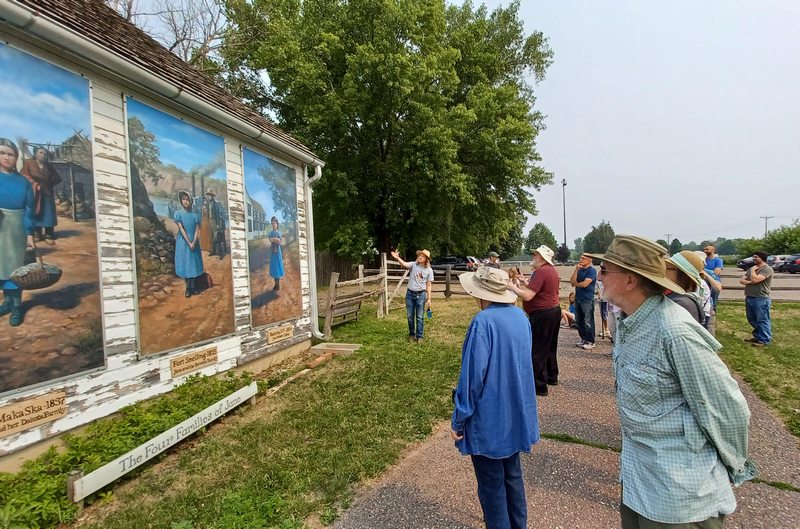 Mel Aanerud Presented United States Policy toward Indigenous People
February 26, 2023
Doug Woods Book Release November 2022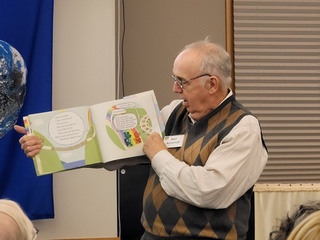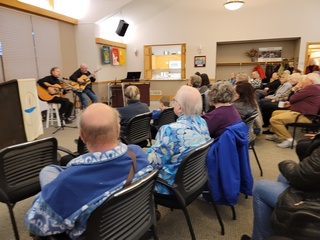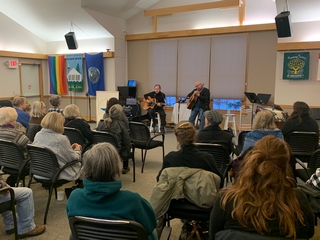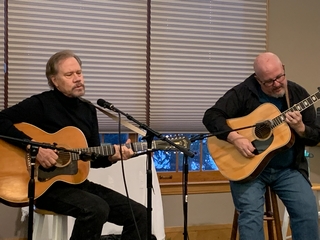 Monarchs in the Pilgrim House Rain Garden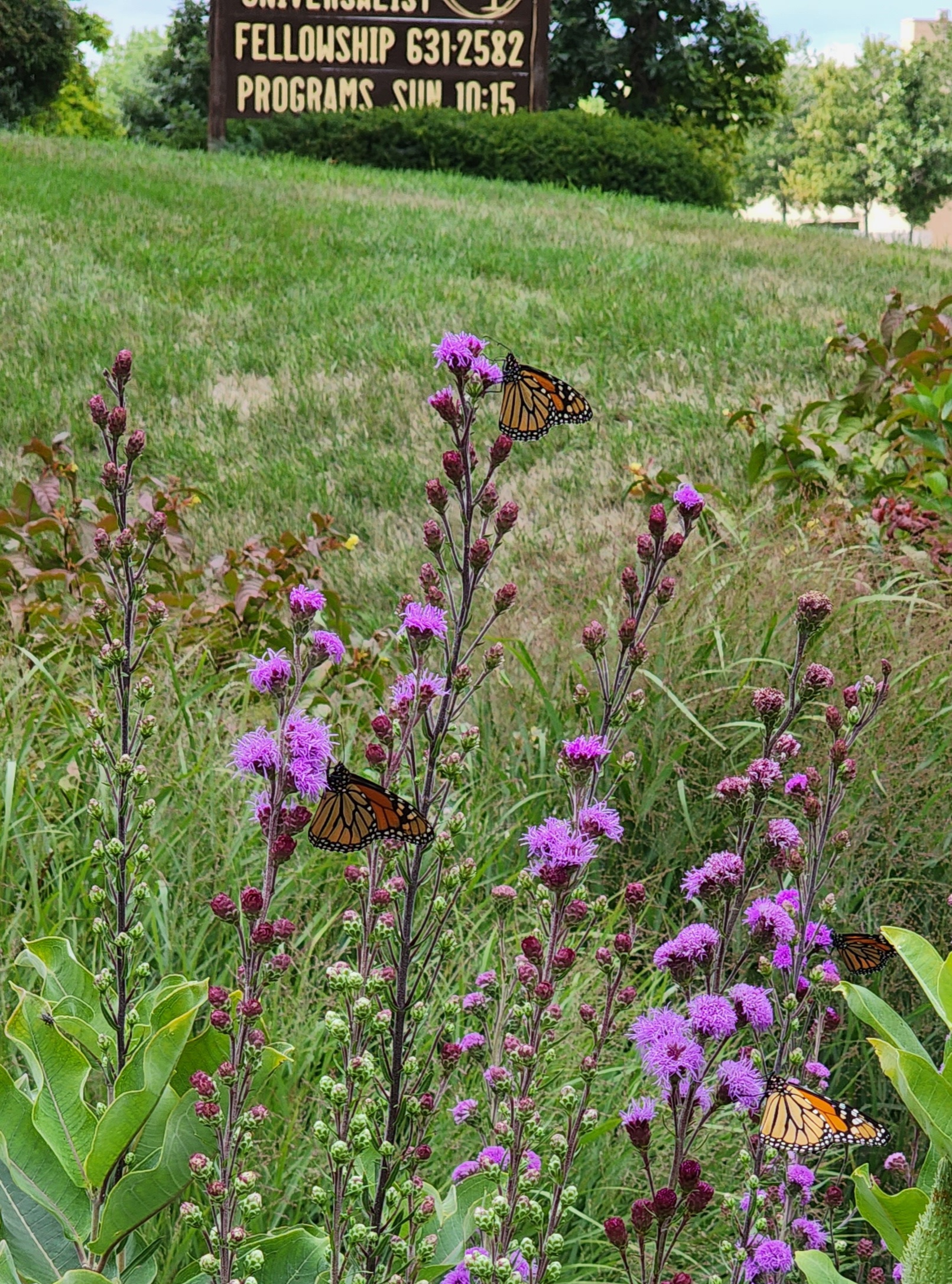 Pilgrim House at the Walk 100 Miles for Our Neighbors on August 31, 2022
Supports the Community Support Center in helping to keep people in their homes.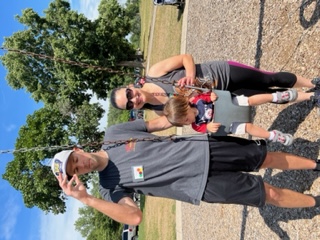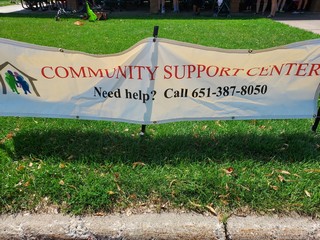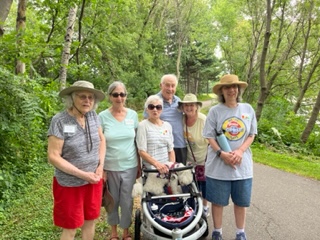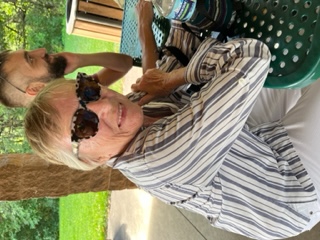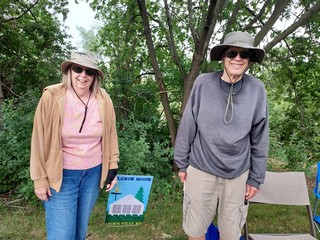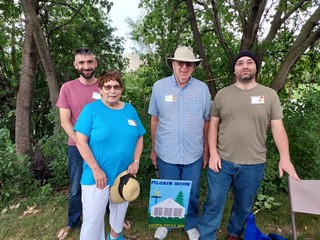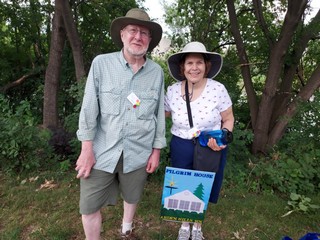 UUA President Susan Frederick Gray on the relationship of abortion rights and sexual identity with religious freedom
https://religiondispatches.org/transphobic-and-anti-abortion-policies-are-a-direct-threat-to-my-religious-freedom/.
Our Flower Communion on June 5, 2022
A few of the lovely flowers brought by members and friends for this morning's Flower Communion program. Our congregation is enriched by members and friends and visitors who share programs with us as symbolized by the gathering of flowers during our annual flower communion program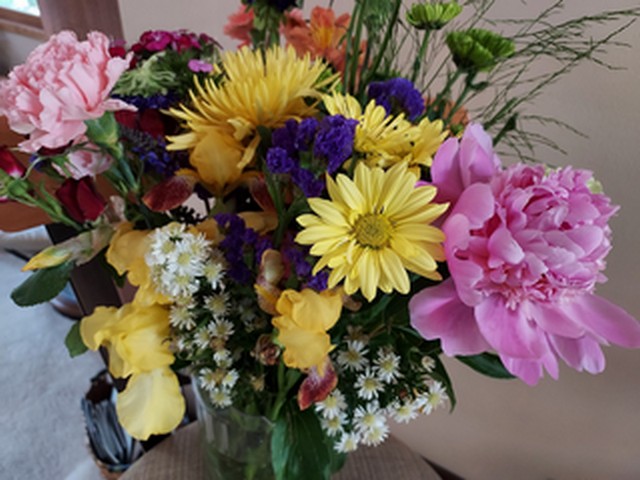 Slides from Rebekah Golden's Program on Bees on October 3, 2021
Photos from the Community Support Center Walk 1,000 Miles for Our Neighbors
Pilgrim House had 11 walkers for a total of 16 miles. Overall there were 224 Walkers who chalked up 338 miles! CSC collected $8,958 for the Walk and that was matched by contributions from CSC Board members for total receipts of $17,916. That is more than 2019.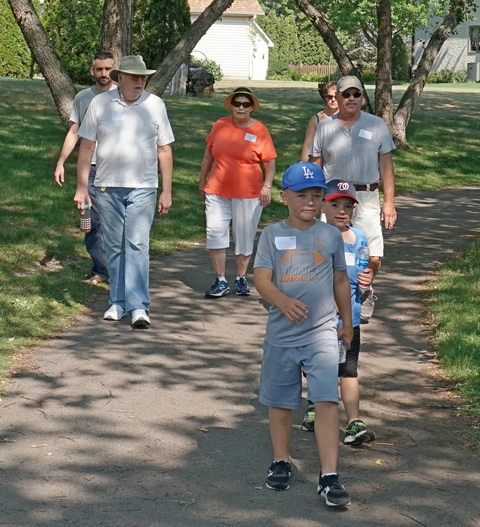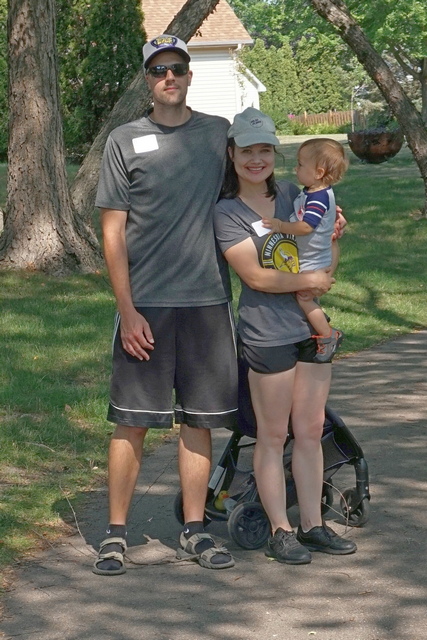 Photos of the Rain Garden that filters water from our parking lot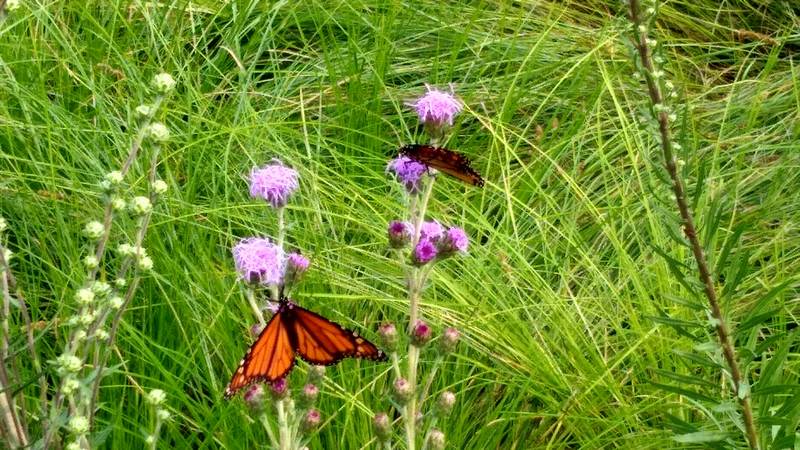 Links from the May 9 program on This is Mother's Day – Extraordinary Women
https://www.mnhs.org/votesforwomen The current Votes for Women virtual exhibit at the Minnesota Historical Society
https://www.womenshistory.org/womens-history/online-exhibits Women's History Museum
Music from the Holiday Program via Zoom December 20, 2020
Carol Gross Hanerot Halalu Three Parts
Bleak Mid-Winter
Holiday Program Old Lang Syne
Slides from the Great North Innocence Project on November 15, 2020
The Pilgrim House 50th Anniversary Program via Zoom November 1, 2020
July 19, 2020 Our New Solar Panels have been installed!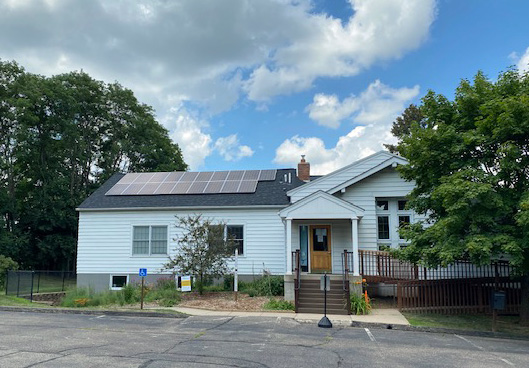 Our Annual Auction on March 8, 2020 made over $7400.
Thank you to everyone for your generosity!
Norwegian Folk Dance Group Program on March 8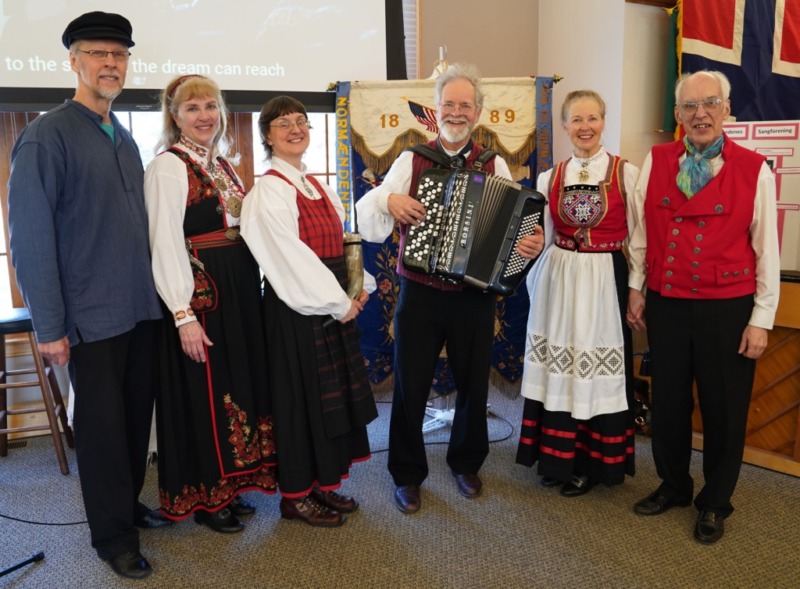 #uuthevote Launch Party at Pilgrim House
January 12, 2020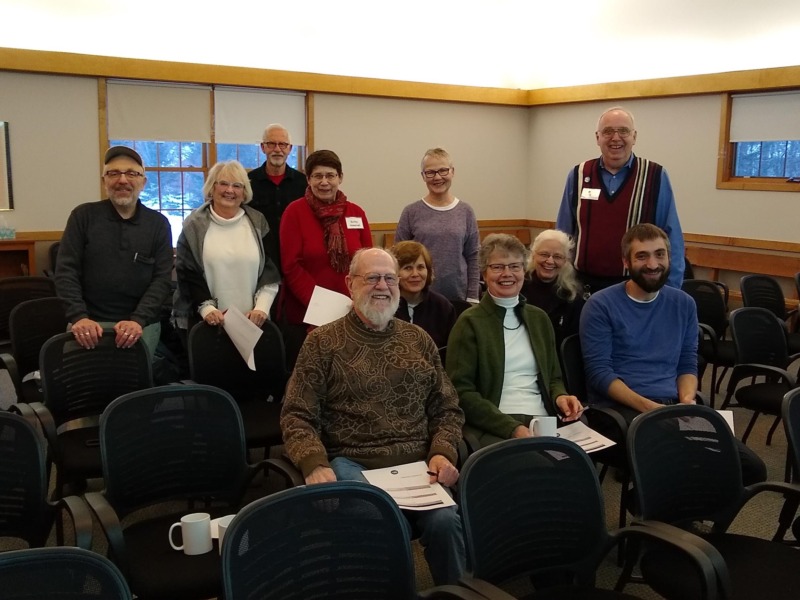 Alexandra House Donations
Pilgrim House again generously donated gifts for the Alexandra House Holiday Shop. In addition to the gifts shown over $200 of gift cards were donated. Click on picture for a larger image.

December 1st Program - 19th Amendment (Women's Suffrage)
Featuring: Abigail Adams, Elizabeth Cady Stanton, Susan B. Anthony, Lucy Stone, Victoria Woodhull, Harriot Stanton Blatch, Alice Paul, Lucy Stone, Carne Chapman Catt, and Harry Burn
Images: Producer/Writer, Performance, Cast, Singers, Singing
Click on photo for a larger image.
Harvest Fest at Pilgrim House!
Friday evening, October 18th, 2019
Click on photo for a larger image.
Pilgrim House Rain Garden Installation: September, 2019.
A total of 166 plants installed, including:
Black-eyed Susan
Blue Flag Iris
Dotted Blazing Star
Fox Sedge
Prairie Dropseed
Russian Sage
Switchgrass - Heavy Metal
Bush Honeysuckle
Arctic Fire Red Twig Dogwood
Construction photos from start to finish. Click on photo for a larger image.
The Pilgrim House Chorale in the 2019 Sing for Your Neighbors Fundraiser for the Community Support Center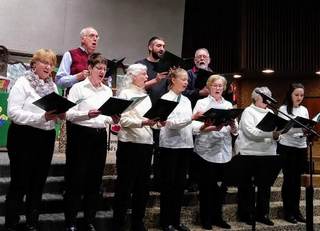 Harvest Fest at Pilgrim House November 10, 2018
The Pilgrim House Chorale at the 2017 Holiday Program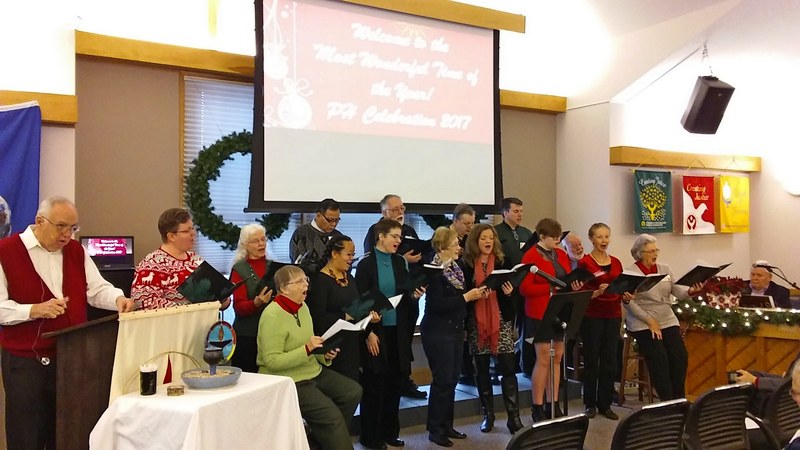 Slides from the November 5, 2017 Program: Health Care for All Minnesota
You can download this PDF format file, 6 slides a page, 2 columns: HealthCareForAllMinnesota.pdf
Harvest Fest at Pilgrim House November 4, 2017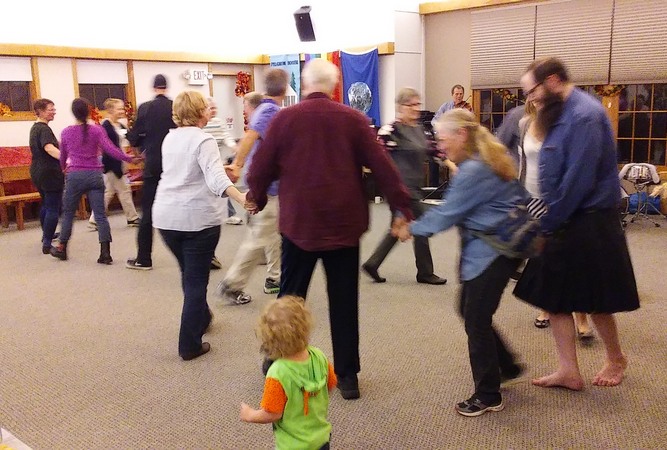 A short video is available at https://youtu.be/jLc51z_769Q.
$200 and 37 pounds of food were collected for the Ralph Reeder Food Shelf.
Team Pilgrim House in the 2017 Alexandra House Walk for Hope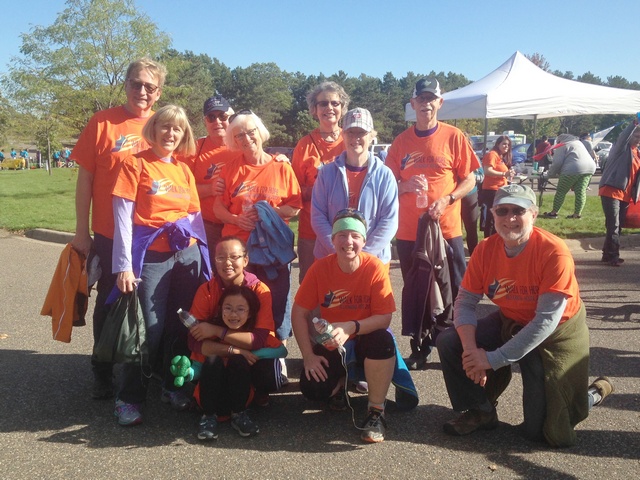 Slides from the September 24, 2017 Program: Minnesota without Poverty
MinnesotaWithoutPoverty.pdf PDF format file for download
Pilgrim House at the 2017 Community Support Center Walk a Mile Fundraiser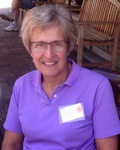 Sunday 7/30 was this year's Silverwood Park "Walk a Mile for our Neighbors" fundraiser for the Community Support Center (CSC - http://www.communitysupportcenter.org/). The CSC brings together several faith-based organizations in New Brighton, Mounds View, North Oaks, Shoreview, and Arden Hills to assist those in need to prevent homelessness, solve financial crises and provide long-term relationships. Pilgrim House is an active member of the CSC, with PH Secretary Mary Carlson serving as a CSC Board Member. In total, Pilgrim House had 18 walkers, 49.5 miles walked, and 3 door prize winners for this important yearly fundraiser. Each mile walked earned $10.00 for the CSC. Pictured at right is Mary Carlson, working the registration table.
Total numbers—482 walkers, 936 miles, Donations $12,826.
Thanks PH Volunteers and walkers!
The New Pilgrim House Play Area in Use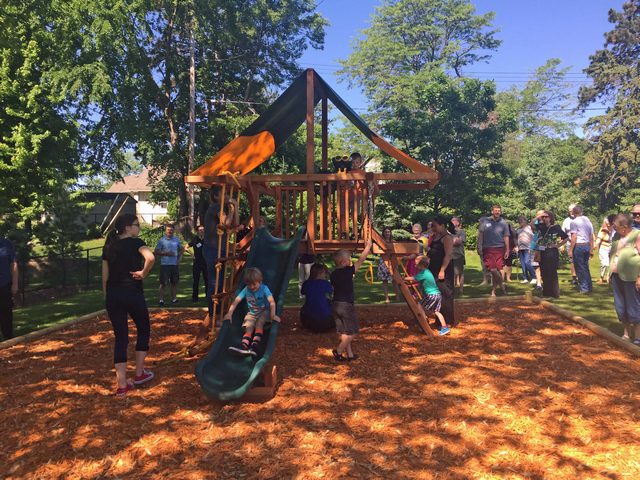 Arne Carlson Speaks at Pilgrim House on May 14, 2017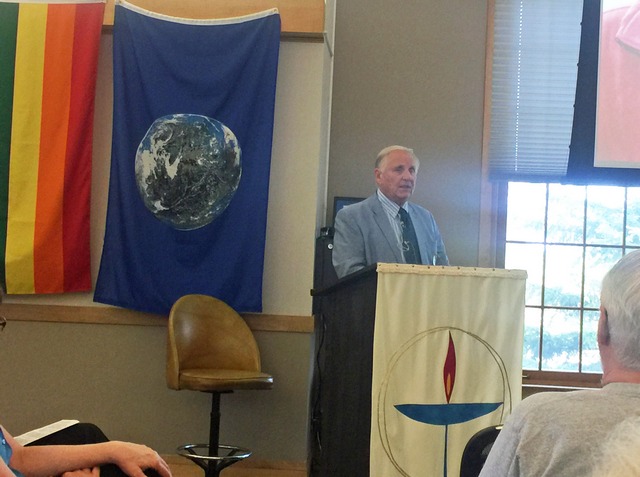 Drone Photo of Pilgrim House from 388 feet up on February 19, 2017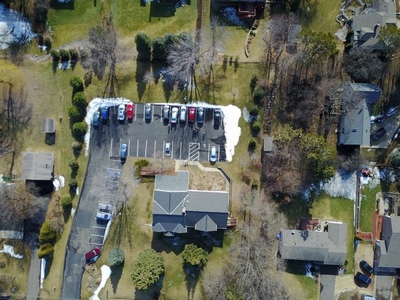 1968 Olympics Black Power Salute Student
YouTube Video by David Conradi-Jones' Grandson: https://www.youtube.com/watch?v=S95voNLTnSE&feature=youtu.be
Buddhism in the Twin Cities Handout from the February 5, 2017 Program on Buddhism
PDF file Buddhism.pdf
Older News Articles
Older articles may be found at Old News.
---
SAFETY ALERT: Please keep children away from the drainage pond located near the driveway.