Thanksgiving 2016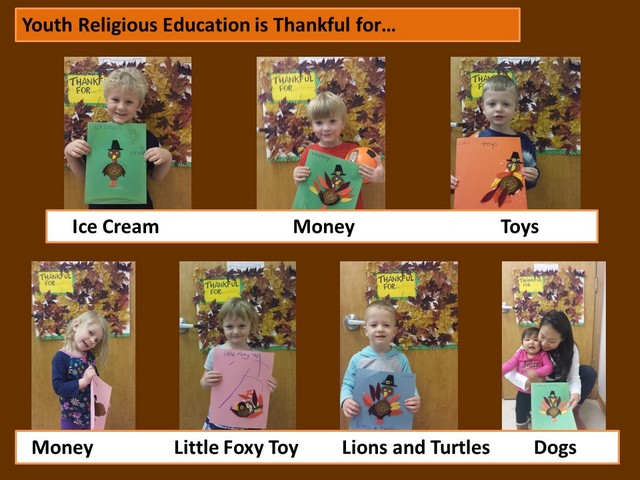 Harvest Fest on November 5, 2016
Fun for All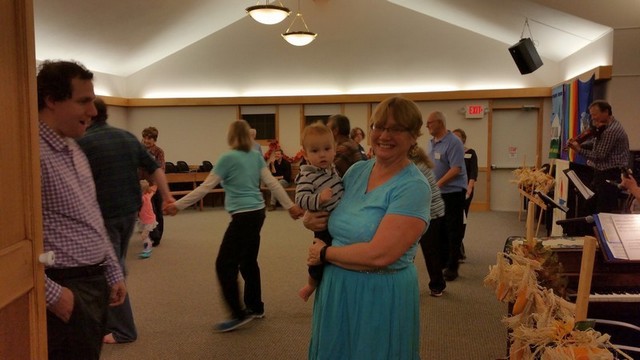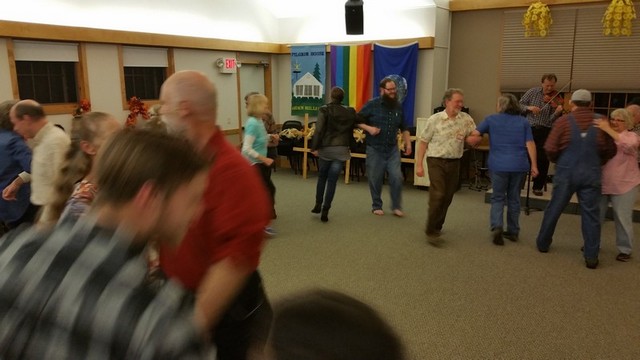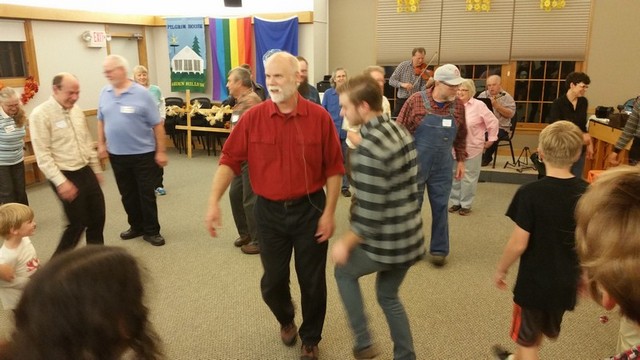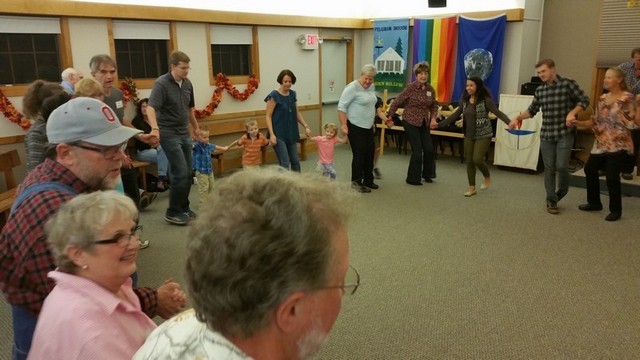 Book Referenced in the October 30 Program by Emma Stout
The book referenced by Emma this morning, in response to a question about becoming better informed about racial justice, is a Minnesota publication.
A Good Time for the Truth: Race in Minnesota
    edited by Sun Yung Shin

Pilgrim House at the 2016 Alexandra House Walk for Hope
Pilgrim House at the 2016 Pride Parade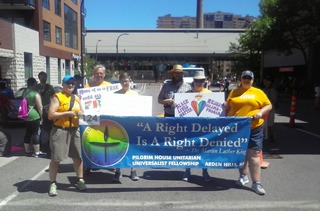 PH 2015 Thanksgiving Chorale Video
A video of the PH Chorale is available on YouTube at https://www.youtube.com/watch?v=8hQ0sDWgUoI&list=PLxZeLHLouLG4vRoiKjU1eXn3LOc2GhtVl.
Poem Composed by PH Attendees
During the program on September 27, Alzheimer's Poetry Project with Zoë Bird, PH attendees composed a poem. PH Poem 2015.
The Pilgrim House at the 2015 Pride Parade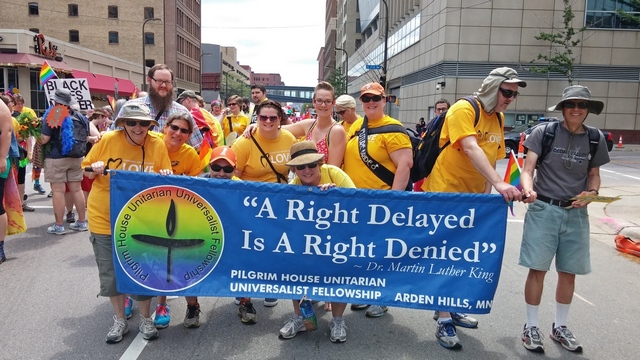 The Pilgrim House group at the Anoka High School play, Joseph and the Amazing Technicolor Dreamcoat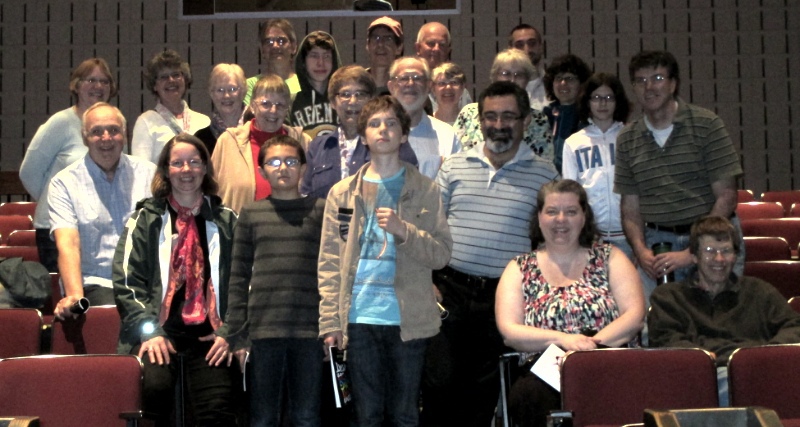 Pilgrim House group attends 2015 Regional Assembly
Slides from the Regional Assembly presentation at PH: Attach:regionalassembly2015.pdf (PDF reader required)
Readings from the December 21, 2014 Holiday Celebration
Touch Hands
     Touch Hands
Ah friends, dear friends.
as years go on and heads get gray
how fast the guests do go!

    Touch hands,
Touch hands, with those who stay.
Strong hands to weak, old hands to young,
around the Christmas board,
    touch hands.

Holiday Blessing
This Holiday Season…
Seek out a forgotten friend.
Share some treasure.
Give a soft answer.
Keep a promise. Listen.
Apologize if you were wrong.
Be gentle.
Laugh a little.
Gladden the heart of a child.
Take pleasure in the beauty and wonder of the earth.
Express your gratitude.
Have faith.
Speak your love.
Speak it still once again.

Combined UUA and UUSC Initiative on Climate Change
The UUA and UUSC announced the initiative in a Letter On Climate Change.
Doree's Friendship Cabin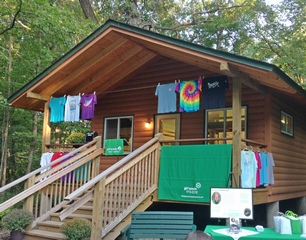 Doree Gamble, former Pilgrim House and Girl Scout Leader, was honored with the dedication of a cabin at Girl Scout Camp Lakamaga in Scandia, MN on August 15.
PH at the 2014 UUA General Assembly in Providence, RI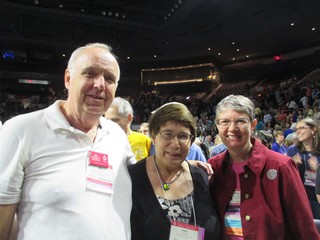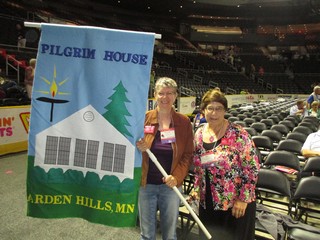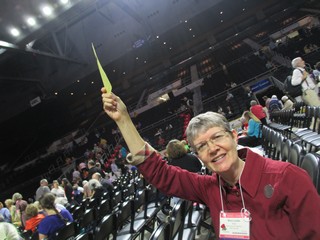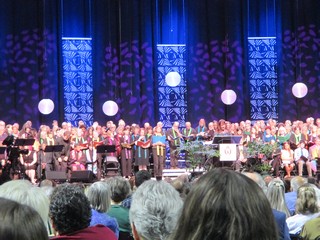 Slides from the May 1 Great Decisions program "Energy Independence"
GreatDecisions20140501.pdf The file requires a PDF viewer such as Adobe Reader.
Video of the program "The Story of Pilgrim House Continued" from April 6, 2014
(:youtube HiAUxwWuvBk:)
From YouTube http://youtu.be/HiAUxwWuvBk
Video of the program "Songs and Dances of the Civil War Era" from April 13, 2014
(:youtube Rp3PLRzB5hc:)
From YouTube http://youtu.be/Rp3PLRzB5hc
Caring Hearts Supply Drive for Homeless People Has Started
Given our present economic challenges, there are an increasing number of people living without basic supplies in shelters, transitional housing and in streets or places not intended for human habitation. These people have a great need for hygiene supplies and over-the-counter medications.
Monetary donations are especially welcome. Please make checks payable to the "HealthEast Foundation Homeless Project."
Non-prescription medications, hygiene supplies and cotton socks are just a few items that homeless people have a great need for. See the Shopping List.PDF for more information. You can drop your donations in the box at PH. Thank you for giving from your heart!
Listening Workshop
If you want to learn and practice more effective listening techniques or simply refresh and share what you already know, you are invited to participate in an Art of Listening workshop here at PH on Saturday, February 15 from 9 a.m. to noon. Sign up at http://www.signupgenius.com/go/30E0548AEAA22A64-theart. Brought to you by the PH Congregational Care Committee,
DVD Available for PH-related Film
A friend of Pilgrim House, Michael Legan, composed an original score to a local documentary film, Painting the Place Between. The violin and viola on the soundtrack were performed by PH member Melissa Chiri. The feature-length film is about four Minnesotan abstract artists who "shape a vision of our natural space as mediated by the artist's subjective experience and the legacy of painting on canvas." The film debuted at the Fitzgerald Theater in St. Paul on December 6th, 2013 and is now available online for $20 and will also be available for a discount at Pilgrim House. A link to an article in the Star Tribune is http://www.startribune.com/entertainment/stageandarts/234634461.html. The DVD is available at https://squareup.com/market/painting-theplace-between.
Twin Cities Unitarian Universalist Congregations: Past and Present Available on Amazon
The book Twin Cities Unitarian Universalist Congregations: Past and Present is available at http://www.amazon.com/Twin-Cities-Unitarian-Universalist-Congregations/dp/149032917X. This is the book passed around at Pilgrim House and includes PH.
Photos from This Year's Harvest Fest are on the Harvest Fest Page
Script from the "New at the U" Program by Mary Kay Delvo on March 24
New at the U.pdf (PDF file)
Slides from the Great Decisions Program: Mexico with Rob Scarlett
http://www.pilgrimhouseuua.org/GreatDecisions20121101Mexico.pdf (10 mb PDF file)
Unitarian Universalists See Chance For Growth In Growth Of Secularism
http://www.huffingtonpost.com/2012/10/05/unitarian-universalists-growth_n_1941382.html
PH Basement Drainage Project Completed
The PH project to avoid basement flooding was completed with a new drain bored under the property to near the driveway. Thanks to Gary Borg for organizing this effort. Gary's narrative of the work is in basementdrain.pdf. The finished basement entrance: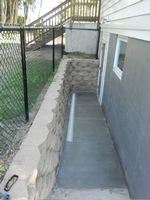 Resolutions Approved at the Pilgrim House Annual Meeting
These two resolutions were approved by a majority vote of members at the Pilgrim House UU Fellowship Annual Meeting on 6/3/2012:
BE IT RESOLVED: that the Pilgrim House Unitarian Universalist Fellowship opposes the election ballot question recognizing marriage as only between one man and one woman.
BE IT RESOLVED: that the Pilgrim House Unitarian Universalist Fellowship opposes any amendment to the Minnesota State Constitution which requires a government issued photo Identification as a precondition to vote in Minnesota elections.
Picture from the Flower Communion on June 3: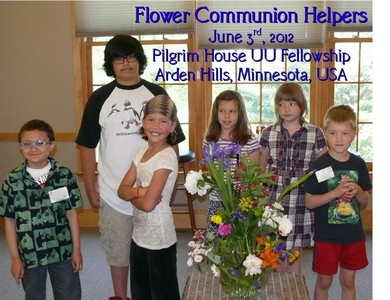 This picture has been sent to the Prague Unitarian Congregation for their 90th anniversary celebration (the Prague Unitarian Congregation was where the Flower Communion originated).
Here is an MP3 of the PH Chorale at the program: PHChorale20120603.MP3
Peltier Lake Heron Report
At the Birds in Flight program on February 19, Wayne LeBlanc talked about the recovery of the Great Blue Heron colony on the island in Peltier Lake. Here is the report he passed around as a PDF: HeronReport.pdf.
Slides from the January 21 Program - Brain Development and Public Policies
The was a very interesting program by Marcie Jefferys and Alexandra Fitzsimmons of the Children's Defense Fund. The slides are a PDF file: CDF Slides.
Note: these slides are in PDF format, so you need the free Adobe Reader or similar software to view them.
The Pilgrim House Chorale at Our Holiday Celebration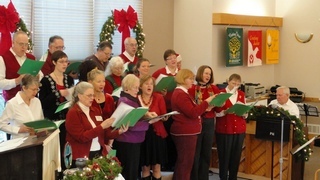 A low quality mp3 recording of the Chorale is available by contacting Fred Green pilgrimhouse@pilgrimhouseuua.org.
Slides on the Future of the PSD
Slides on the future of the Prairie Star District from this year's conference.
Slides from the December 11 Program on Immigration Policy
Slides from the presentation are available at http://www.hhh.umn.edu/people/kfennelly/pdf/ten_myths_immigration.pdf.
Book Lists from the Best Read Program on November 27
Slides from Bill Easter's 9/25/11 Program on The World Water Problem
Note: these slides are in PDF format, so you need the free Adobe Reader or similar software to view them.
PH at the 2011 UUA General Assembly in Charlotte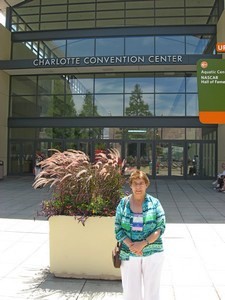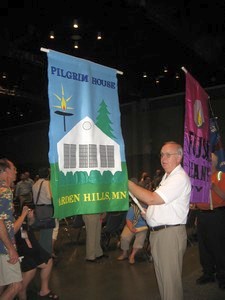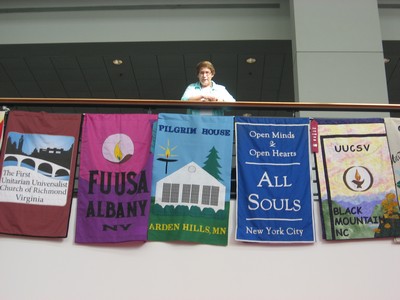 PH Youth at the PSD Annual Conference Opening Celebration Banner Parade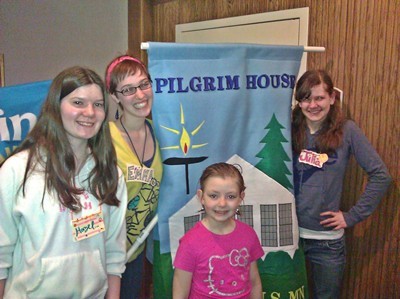 You can also watch the Banner Parade (and other conference events) at https://www.psduua.org/drupal/events/AnnualConference2011/streaming_video.
Listen to Tom Hanson's U.S. Foreign Policy Outlook Mentioned in the March 27 Program
On the Minnesota International Center's website http://www.micglobe.org/ audio from the talk and a map are available under Events in the column on the right.
Wendy Jerome's Boundary Waters Environmental Organizations from the March 13 Program
My opinion on the most effective groups to keep in touch with if you want to be ready to lobby your legislators to protect the Boundary Waters are two organizations.
Friends of the Boundary Waters Wilderness http://www.friends-bwca.org/
and the umbrella organization that includes the Friends and 79 other Minnesota environmental organizations
Minnesota Environmental Partnership http://www.mepartnership.org/
I spoke at length with Shannon Brumbaugh, the MEP Development Director, she said she and Campaign Director Patience Caso welcome calls anytime to ask about particular campaigns, legislation, current issues. MEP has active lobbyists on staff and in close touch with legislation, day by day, as you'll see on their website, up-to-date website. MEP is also a 501(c) 3 organization. I was very impressed with the MEP website.
Report on the PH Donations to Chile Earthquake Relief
Last spring, PH members donated money to help with relief after the earthquake in Chile. Here is a report on how the money was used to fund an arts program at a local school destroyed by the earthquake:
http://pilgrimhouseuua.org/PHChileReport/Chile.htm
New Furnace at PH
Last weekend (February 27), the furnace for the east side of the building failed and had to be replaced. Thanks to Al Potter and Gary Borg for quickly getting a new 95% efficient furnace installed: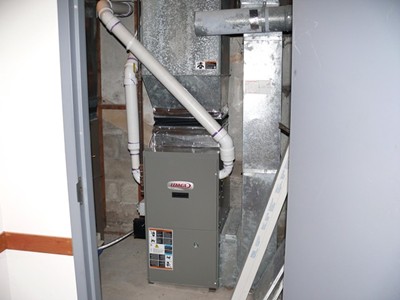 Quote from the Jack Nelson-Pallmeyer Presentation on January 30
To be hopeful in bad times is not just foolishly romantic. It is based on the fact that human history is a history not only of cruelty, but also of compassion, sacrifices, courage and kindness. What we choose to emphasize in this complex history will determine our lives. If we see only the worst, it destroys our capacity to do something. If we remember those times and places—and there are so many—where people have behaved magnificently, this gives us the energy to act, and at least the possibility of sending this spinning top of a world in a different direction. And if we do act, in however small a way, we don't have to wait for some grand Utopian future. The future is an infinite succession of presents and to live now as we think human beings should live, in defiance of all that is bad around us, is itself a marvelous victory.
Howard Zinn
PH at the 2010 Pride Parade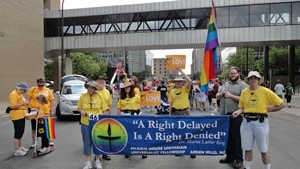 PH at the 2010 UU General Assembly in Minneapolis