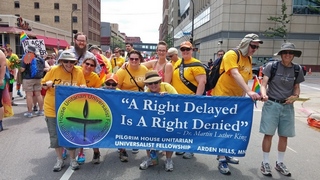 PH at the 2015 Pride Parade
Ongoing Social Action Efforts
Social action contact Sharon Borg Social Action Chair.
PH supplies volunteers who work Tuesday nights at the Ralph Reeder Food Shelf in New Brighton. See the Food Shelf page for more information.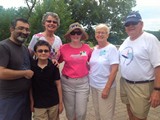 PH in Walk a Mile Fundraiser
PH participates in the Walk a Mile fundraiser for Community Support Center (CSC) held in July at Silverwood Park.

PH in the Walk for Hope for Alexandra House
Children and Youth Religious Education, Children and Youth, frequently does social action activities with the children. They have been working with 'Alexandra House shelter http://www.alexandrahouse.org/'.
The Welcoming Congregation Committee, Welcoming Congregation page, works on GLBT issues at PH. At the Annual Meeting on June 1, 2008, PH voted to become a Welcoming Congregation. PH has marched in the 2007, 2008, 2009, 2010, 2011, and 2012 Pride Parades. Please join us for this year's parade!
PH also participates in the local Social Action Network meetings.
The UUA Social Justice http://www.uua.org/socialjustice lists major nationwide social action events.
In the past Pilgrim House members have been active in Fare Share, Family to Family Ties, and Habitat for Humanity.