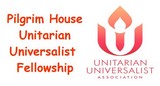 1212 W. Highway 96, Arden Hills, MN 55112
About Us ( Mission, History, Directions, Contact info )
Information For Visitors
We ask all alike to think — not all to think alike.

Pilgrim House is open for in person and Zoom programs ("multi-platform" or "hybrid" programs). Everyone is welcome!
Updated COVID-safety criteria we follow:
Masks are optional
Attendees are vaccinated, with exception for children too young to be vaccinated
Social distancing encouraged in the Program Room
Air purifiers will continue to be run in Program and Fellowship Rooms
Food and beverages are provided by our Hospitality Committee
While we don't currently have classes for children or teens, know that families are always welcome. Sunday speakers and programs tend to interest an intergenerational gathering. Families with young children may choose to move to the playroom/nursery during the program as fits their needs. Audio of the program is available there.
The Zoom link for programs will be sent to Pilgrim House members and friends. If you would like to participate via Zoom, please contact pilgrimhouse@pilgrimhouseuua.org.
Next Program

December 4 – AARP Minnesota – Protect Yourself from Fraud and Identity Theft
Financial crimes, including scams, identity theft, and consumer fraud, are the most frequently attempted crimes every day in the United States. In this session, we share an inside look at how scammers think, how to safeguard against identity theft and fraud, first-hand accounts from victims, and what to do if you or someone you know has been a victim.
Presented by Marty Fleischhacker · Senior Financial Fraud Ombudsman at Minnesota Department of Commerce.
Soup Sunday follows the program.
Upcoming Programs
December 11 – Dr. Mark Seeley U of M Meteorologist Professor Emeritus – Climate Change in our own Backyard
Dr. Seeley will link climate trends, climate change, and impacts that are already consequential in Minnesota.
December 18 – Pilgrim House Holiday Celebration!
Please join us for our always-special intergenerational PH holiday program, complete with group caroling, favorite holiday readings, seasonal music, a performance by the PH Chamber Singers, a special guest (possibly from the far north), favorite foods, and more. We want to have a celebration that is inclusive, but that depends on each member to contribute – Contact Bill Rohde or Mel Aanerud by December 12th if you or the youth or grandchildren in your family have special music or a reading to share. And don't forget to bring that favorite holiday food for our traditional potluck finger foods feast after the program. See you there!
There will be no programs December 25 or January 1.
January 8 – Rev. Leslie Mills returns with "Where are we going?"
These are exciting times in Unitarian Universalism today. Our faith is often described as a "living tradition" because it is not written in stone. We continue to evolve and grow as we learn more about the world around us and our responsibility to build the Beloved Community. So, what does that look like in the coming years?
Soup Sunday follows the program.
Past Program Highlights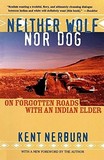 November 27 – Neither Wolf nor Dog
Kent Nerburn is the author of Neither Wolf nor Dog which was made into a movie. One white man and one Dakota locked in their own understanding, yet struggling to find a common voice. It was the winner of the 1996 Minnesota Book Award. He is also author of our common read The Wolf at Twilight. He rescheduled and specifically wanted this date - close to Thanksgiving, to talk about Indigenous people in our (their) country.
---

November 20 – Our Traditional Thanksgiving Program with a bit of a Twist
We want to know what you are thankful for. Our PH Thanksgiving program is a not-to-be-missed time of celebration and community, bringing together Pilgrim House members and friends with special music, a performance by the Pilgrim House Chamber Singers, seasonal readings and poetry ... and more. If you or younger members of your family have a musical selection you'd like to share, please contact Bill Rohde by Sunday November 13. Similarly, if you have a reading or just your tale you'd like to share, please contact Mel Aanerud. After the program, we will serve ham, scalloped potatoes and pecan pie; please bring a side dish or dessert to round out the meal.
---

November 13 - What are we?
Rev. Leslie Mills returns - Technically Unitarian Universalism is not a "denomination", but rather an association of congregations. Since the merger of the American Unitarian Association and Universalist Church of America in 1961, we have been trying to answer this question. What are we? Together we'll explore questions of belief, values and covenant.
---

November 6 - Beacon Interfaith Housing Collaborative Housing Issues
Justin Lewandowski, congregational and community organizer with Beacon Interfaith Housing Collaborative, will join us in a conversation on housing insecurity in the greater metro area, Beacon's approach, and specific campaigns Beacon is leading that address aspects of the housing crisis. He will also be discussing Beacon's newest development, Gladstone Crossing, that would be located Maplewood & provide about 40 supportive homes to young families experiencing homelessness in Ramsey County. For more information on Gladstone Crossing, https://www.beaconinterfaith.org/blog/housing/create-homes/overview-gladstone-crossing/.
Justin Lewandowski is currently the congregational and community organizer with Beacon Interfaith Housing Collaborative. Justin started organizing in Saint Cloud, Minnesota, during the "Minnesotans United for All Families" campaign in 2012. After successfully defeating the constitutional ban on same sex marriage, Justin went on to organize on LGBTQ+ advocacy campaigns across the country. Before coming to Beacon in 2020, Justin worked with OutFront, Minnesota, and helped pass Minnesota's first municipal ban the hurtful, harmful practice of conversion "therapy" in Minneapolis.
Soup Sunday follows the program.
---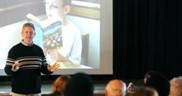 October 30 - Doug Ohman - Minnesota From The Road - Urban Gems (St. Paul)
Join with Minnesota historian Doug Ohman as he takes us on a road trip through St. Paul and surrounding suburbs exploring historic sites. Doug will entertain with stories and images that can be found within an easy drive. He will share the interesting back stories of of some our states most treasured landmarks.
---

October 23 – Post Capitalism
Anthony Signorelli has been to Pilgrim House before with his book "Call to Liberty" and is back with "Post Capitalism" - What will the world be like when everything is digital, robotic, or automatic? He talks on the digital disruption of capitalism, what it means for the economy and technology, and the implications for society as a whole.
---

October 16 - ***Postponed*** Reckoning with Opioids in the Land of 10,000 Rehabs
Amy Sullivan, author of Opioid Reckoning, will share insights not only about the history of the opioid epidemic, but also how it collided with Minnesota's pioneering history in drug and alcohol treatment. She will share stories about the intimate lives of families, medical and social work professionals, grassroots activists, and others who contributed their experiences, insights, and potential solutions to ending the epidemic.
---
October 9 - Gun Control in Minnesota
Senator John Marty will present. In Minnesota, a person may not carry a pistol in a public place unless they are in possession of a "permit to carry". Exceptions to the permit requirement include law enforcement officers and other defined instances (Minnesota Statutes, section 624.714). What ought to be and what can a UUA congregation do.
---

October 2 - Where do we come from?
This overview of Unitarian and Universalist history will cover the evolution of ideologies in these two denominations. Rev. Leslie Mills is a third generation Unitarian Universalist. She was dedicated as a child at First Unitarian Society in Milwaukee, and went through Coming of Age at Unitarian Church North in Mequon, Wisconsin. After college, she joined the Unitarian Universalist Church of Rockford, Illinois, where she felt called to ministry. After exploring the 12 UU churches in the Twin Cities during seminary, she was called to serve the Unitarian Universalist Church of Elgin, Illinois, where she was ordained in 2016.
---
September 25 – The Change We Hope to Bring
While our fellowship remains strong with a committed membership, every religious institution in today's changing environment must also look to the future. How do we envision the missions of churches, and our fellowship in particular, over the next 5, 10 or 15 years? What directions need to be explored to remain vital and relevant not only to today's members but also to tomorrow's members and the larger community?
UUA Congregational Life Consultant, Phil Lund, will be presenting some of his recent thinking along these lines. After Phil's presentation we'll discuss changes we might consider to realize our future visions for religious community. Please join us to contribute YOUR thoughts on the changes YOU hope to see and bring!
The scheduled speaker, Ken Nerburn, was unable to present "Neither Wolf nor Dog" and has been rescheduled for November 27.
---

September 18 - Amaryllis
Ken Steffenson and Anne Benson as Amaryllis have played at Pilgrim House many times in the past. Ken is a long time member. They will include some sing-along opportunities in their program, and will lead or help lead the congregational singing. They will lead one presentation of "All God's Critters" in honor of Bill Staines who died last year.
---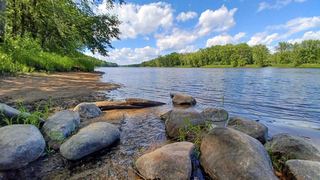 September 11 - Water Communion
Water Communion Sunday with a Bonus! This year we will begin our water communion by learning from Paul Gardner about the status of our state's ground water. Paul is a Master Water Steward, is Administrator at the Clean Water Council and Board Chair at Recycling Association of Minnesota, and served this area as a State Representative. Paul's presentation will be followed by our traditional sharing of water and our water stories.
---

August 21 - Sacred Sites Tour - Jim Bear Jacobs
The program will be in the afternoon and not at Pilgrim House or via Zoom. You must register for this event. See details in the newsletter (https://www.pilgrimhouseuua.org/pmwiki/uploads/PH/pp2205.pdf).
---
July 17 - Swedish Institute - Andrea Justus at 10:15am in person at Pilgrim House and via Zoom
"The American Swedish Institute is a gathering place for all people to explore diverse experiences of migration, identity, belonging and the environment through arts and culture, informed by enduring links to Sweden."
---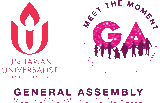 Sunday, June 26, 11:30am CDT - Livestream the Sunday Morning Program from General Assembly
All are invited to attend this nationwide annual gathering of UUs for an abundance of music and inspirational messages. This Sunday morning program is a highlight of the annual gathering of UUs at General Assembly -- this year being presented in hybrid format from Portland, OR. Many of us have enjoyed attending this Sunday morning tradition via livestream in past years -- and we hope you'll be able to join us this year. See https://www.uua.org/ga/off-site/2022/sunday-worship.
There will be a viewing at Pilgrim House (in person only). The building will open at 11:00am with the livestream beginning at 11:30.
---
Older Programs : 2011 • 2012 • 2013 • 2014 • 2015 • 2016 • 2017 • 2018 • 2019 • 2020 • 2021 • 2022