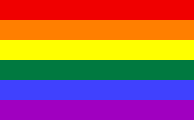 We are a Welcoming Congregation!
Visit the UUA Welcoming Congregation Page for more information on Welcoming Congregations. There is a Monthly Welcoming Congregation Bulletin.
On June 1st, 2008, the congregation of Pilgrim House Unitarian Universalist Fellowship voted unanimously to apply for Welcoming Congregations status. The text of the congregational resolution reads:
Whereas our activities of the past three years have begun to develop our awareness and our capacity to follow through with the aspiration to become a welcoming congregation;
And, whereas Pilgrim House aspires to be a fellowship that welcomes and supports members, friends, and visitors who are gay, lesbian, bisexual, or transgender;
And, whereas we intend to fulfill to the best of our ability the commitments outlined in the Welcoming Congregations program detailed by the Unitarian Universalist Association;
Therefore, we declare ourselves to be a Welcoming Congregation.
Pilgrim House voted to renew the declaration at the Annual Meeting of June 4, 2017.
Pride Parade
More photos from the 2008 Parade!
| | |
| --- | --- |
| Pilgrim House marches in the 2007 Gay Pride Parade | Assembling for the 2008 Parade |